Nov 19, 2019 06:40 PM Central
tobi b feldman
Last weekend we took a trip and I feel like I am just bouncing back. Lousy sleep, not so healthy food options, lots of walking and high emotions=disruption in my groove. Lousy timing too-Easter candy sales and all I pushed myself to workout, grateful to be working with coaches that could help me modify. I reached out to my support systems for accountability and managed to keep myself on track with food. Emotionally I've been allowing myself to feel the feels and release the tears when they well up.
#release #valor #believe #epsomsaltbath#youngliving #fitnessgoals2018#fitat50 #crossfitmama #collegebound #timetoletgo#icandothis #gratitude #loveyourself

Valor is a blend of Northern Lights Black Spruce, Camphor, Blue Tansy, Rosewood, Frankincense, and Geranium. I start every morning with Valor...it helps with empowerment, confidence, and energy balance. It is a very grounding oil that can be used throughout the day.

Release is a blend of Ylang Ylang, Geranium, Royal Hawaiian Sandalwood, Grapefruit, Tangerine, Spearmint, Lemon, Blue Cypress, Ocotea, Jasmine, German Chamomile, Blue Tansy, and Rose. It has a relaxing aroma that facilitates the ability to let go of anger and frustration. It also promotes harmony and balance.

Believe is a blend of Idaho Balsam Fir, Coriander, Bergamot, Frankincense, Idaho Blue Spruce, Ylang Ylang, and Geranium. Believe is another blend that is wonderful for emotional balance and positive outlook.

Power bath time!!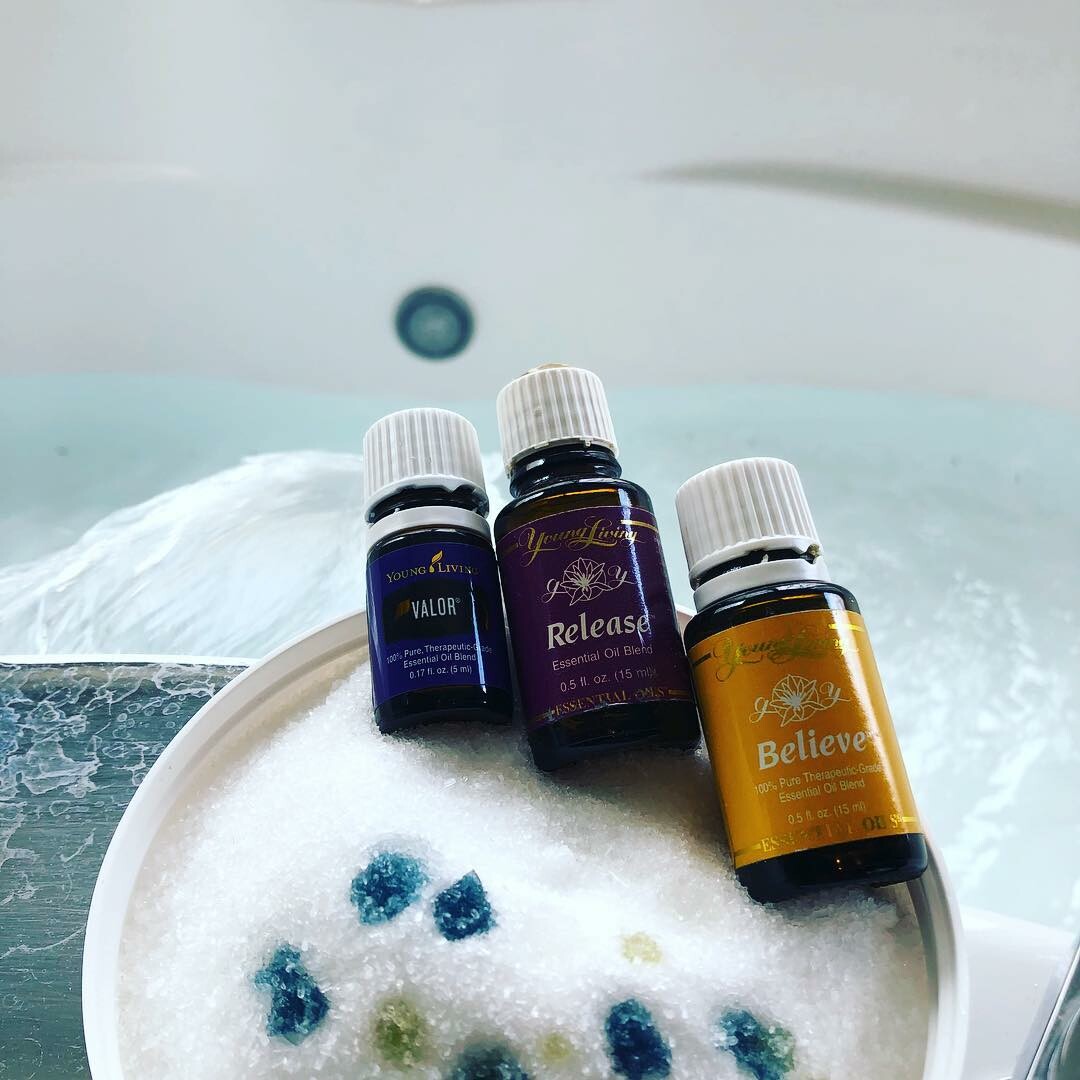 Nov 19, 2019 06:16 PM Central
tobi b feldman
Laying in bed wading through the shit that was in my tonight during CrossFit Open 18.4

Score:
21 deadlifts @ 95#
12 regulation pushups 😜only second time deadlifting-was mentally prepared to do 3 in alloted 9 minutes #dontdoubtyourself #youvegotthis 😜I had never done a real push up- been learning on 30" box

#powerofthemind #pushyourself #youcandoit#fitnessgoals2018 #fitat50 #cfistrong#crossfitofithacamotherthrusters4. #coolazul#epsomsaltbath #gratitude for amazing coaches and community! Thanks for believing in me ❤️