Dec 2, 2020 05:05 PM Central
tobi b feldman
LIVE JUICY!!
I absolutely love the idea of choosing succulence and living juicy.
Choosing succulence in terms of "positivity" doesn't mean you're living life saccharine-sweet, it just means that you're making the choice to acknowledge that it's not always going to be rainbows and unicorns and that's okay.
This past month as I've been grieving the loss of my grandmother, I've been reading Elisabeth Kubler-Ross writings about grief. The quote that really stuck with me is, "I'm not okay, you're not okay, and that's okay." Because it's okay that we're not all okay! And we don't need to be defined by our "not being ok."
It's too easy to succumb to the negativity and the complaints. Positivity doesn't mean ignoring the issues. (and there are so many issues!)
Just means you're turning on the light in the darkness!
The vibrant author, SARK says it's a "personal revolution" to choose positivity.
A couple of years ago I met with my relationship and intimacy coach (and dear friend!), Maria Rider. At our first session when we inquired about my goals, I declared that I wanted to "be juicy!" and not just in my intimate world...I meant living life juicy!
Juicy for me is not being tethered by the darkness and the negativity.
Not being drawn into the black holes.
Not allowing my whole presence to be sucked in by the challenging things that were happening around me.
Not allowing the circumstances of my life to hold me back from joy.
Not allowing the challenges that my children were going through or financial situations or a loved one dying or being ill or any of those things that are just "LIFE" to stop me from moving forward in my own life goals.
Not letting myself live in fear.
Because safety is an illusion.
Anything can happen at any time, and you can't live life "waiting for the other shoe to drop."
Ask yourself:
What ways are you seduced by negativity?
In what ways are you so absorbed in the current global challenges that you're not seeing the joy in your life?
Do you want your personal revolution?
Today Facebook gave me a memory from 2 years ago. The picture is from Hanukkah and the pure joy in each of our faces is undeniable, the glow of the lights, even the dog is blissfully being snuggled... and yet I know that this was such a dark chapter in our family's life. I know that there was so much pain and sadness.
I chose the positivity.
I chose the joy.
I rose up to see the light in the darkness.
I turned the f****** lights on!
Want to hang with other women working on their juicy lives? Come hang with a bunch of resilientAF midlife mamas?

Nov 5, 2020 04:16 PM Central
tobi b feldman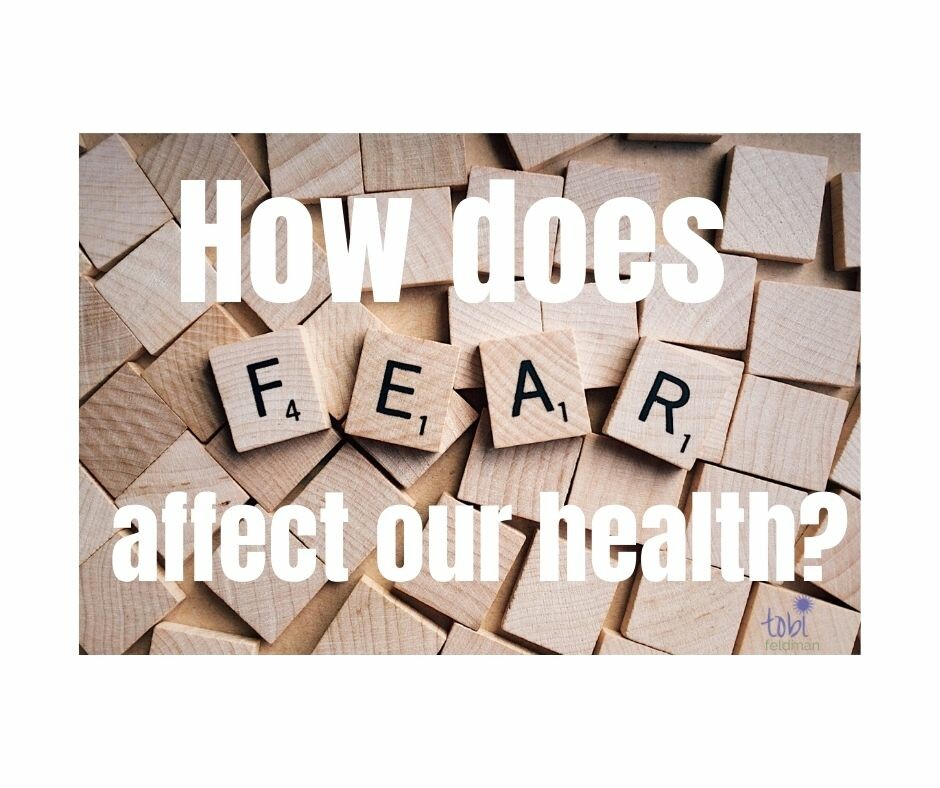 Experiencing fear is a healthy survival mechanism that is fundamental to our existence...living in fear is unhealthy.
Our bodies hold onto that fear and has negative effects on our physically wellness (ie: crippling our immune systems, screwing with our sleep, eating disorders, muscular pain, etc.) and emotional wellness (ie: dissociation, anxiety, phobias, mood swings, obsessive compulsive disorder, etc.)
And to my midlife mamas...fear raises our cortisol levels and messes with our hormones and we certainly don't need anything else messing with our hormones!
Fear puts us in fight, flight freeze mode and shuts down our pre-frontal cortex which makes it difficult for us to engage in executive functioning!
Are ya hearing all the chatter about not being able to focus, zoning out, stress eating, stress baking, drinking, scrolling endlessly on social media?
So let's talk straight about fear…
Zig Ziglar said FEAR had 2 meanings: Forget Everything And Run or Face Everything And Rise
Running from our lives is an unhealthy coping mechanism.
Believe me, I tried, years of emotionally eating my fears instead of facing them has added up!
I now choose to be resilientAF and rise to face my fears.
I get it. This shit is hard. Facing fear head on is intense.
Choices in life are sometimes gut wrenching.
Parenting taught me much of what I know about fear- we as parents hold fears for our children's safety and well being.
The fears in my head were often way worse than the realities and when we hit the deepest darkest moments and real life scary shit was happening- the fear was overpowered by love- a love so intense that fear couldn't continue to paralyze me.
I now fully realize "The only thing we have to fear is fear itself" (Franklin D. Roosevelt)
Action absorbs anxiety and fear- we free ourselves up to live more fully and present to love and gratitude. Self care is love in action.
Radical Self Care that I turn to when fear is present:
workout -especially with the boxing gloves on!

take a walk, bonus points if the sun is shining

dance! sing!

gratitude journaling

Aroma Freedom session

connection with loved ones

Stress Away

and

Peace & Calming

essential oil blends

nurturing whole foods

hugs...lots of hugs
Want to bump up your self care game? Come hang with a bunch of resilientAF midlife mamas? You are not alone! We get it!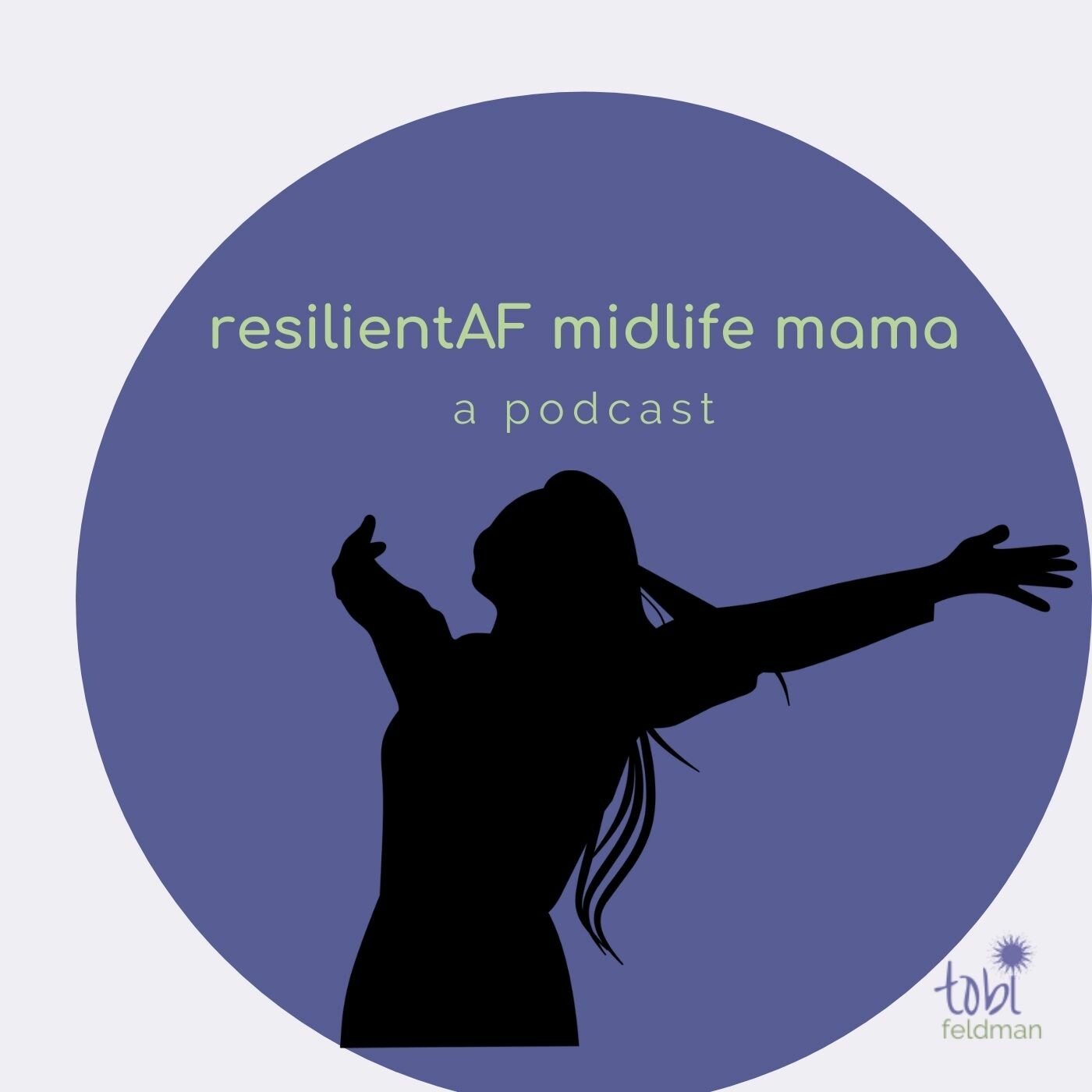 Oct 21, 2020 09:21 PM Central
tobi b feldman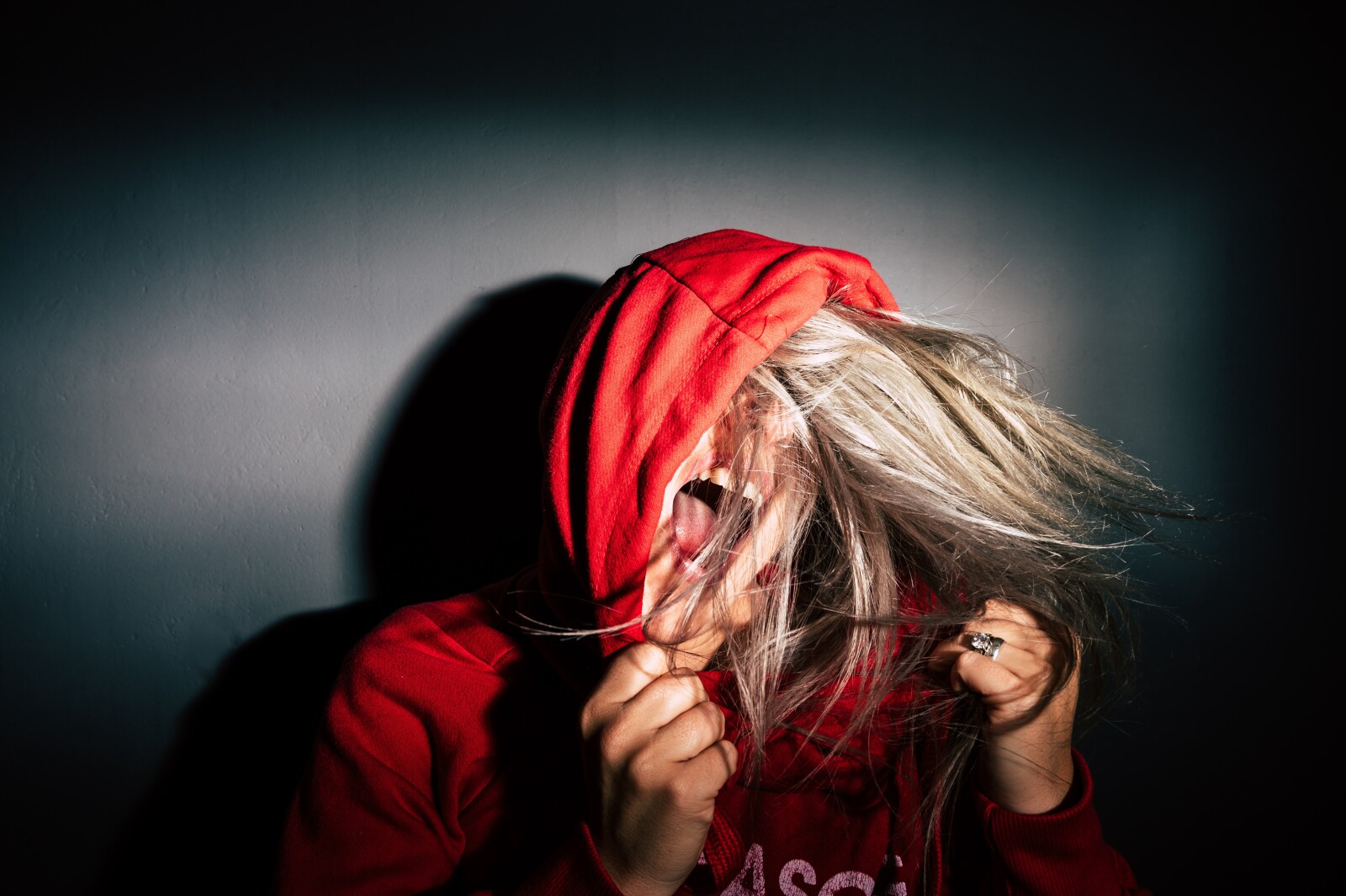 Emotional regulation is a sensitive topic for me.
As a pediatric speech language pathologist, I knew about executive function. I worked with younger kids so I wasn't as tuned into it for the older kids. I also didn't fully understand the emotional regulation behavioral component.
While in the thick of raising my kids I didn't acknowledge and comprehend how our nervous systems co-regulate.
Lots of stuff I didn't know that I didn't know!
I've done the emotional work to release myself from the guilt of not knowing, of not doing better or different. I chose to educate myself and share with others, so other families might escape the trauma.
Emotional regulation is when it's difficult to redirect and refocus when there's a lack of emotional control. This is when we see meltdowns, tantrums, cursing, extreme crying or extreme laughter. Typically unpredictable emotional responses that are out of sync with the situation at hand.
Emotional regulation also involves co-regulation so if a parent is struggling with their own emotional regulation then they feed off of each other. For example, if Mom is really stressed out then the kid gets really stressed out. These kids are not able to not take in what is happening in their environment. Basically our nervous systems are bouncing off of each other and it's a chicken and egg thing.
One way to explain the emotional regulation is polyvagal theory as shown in this image: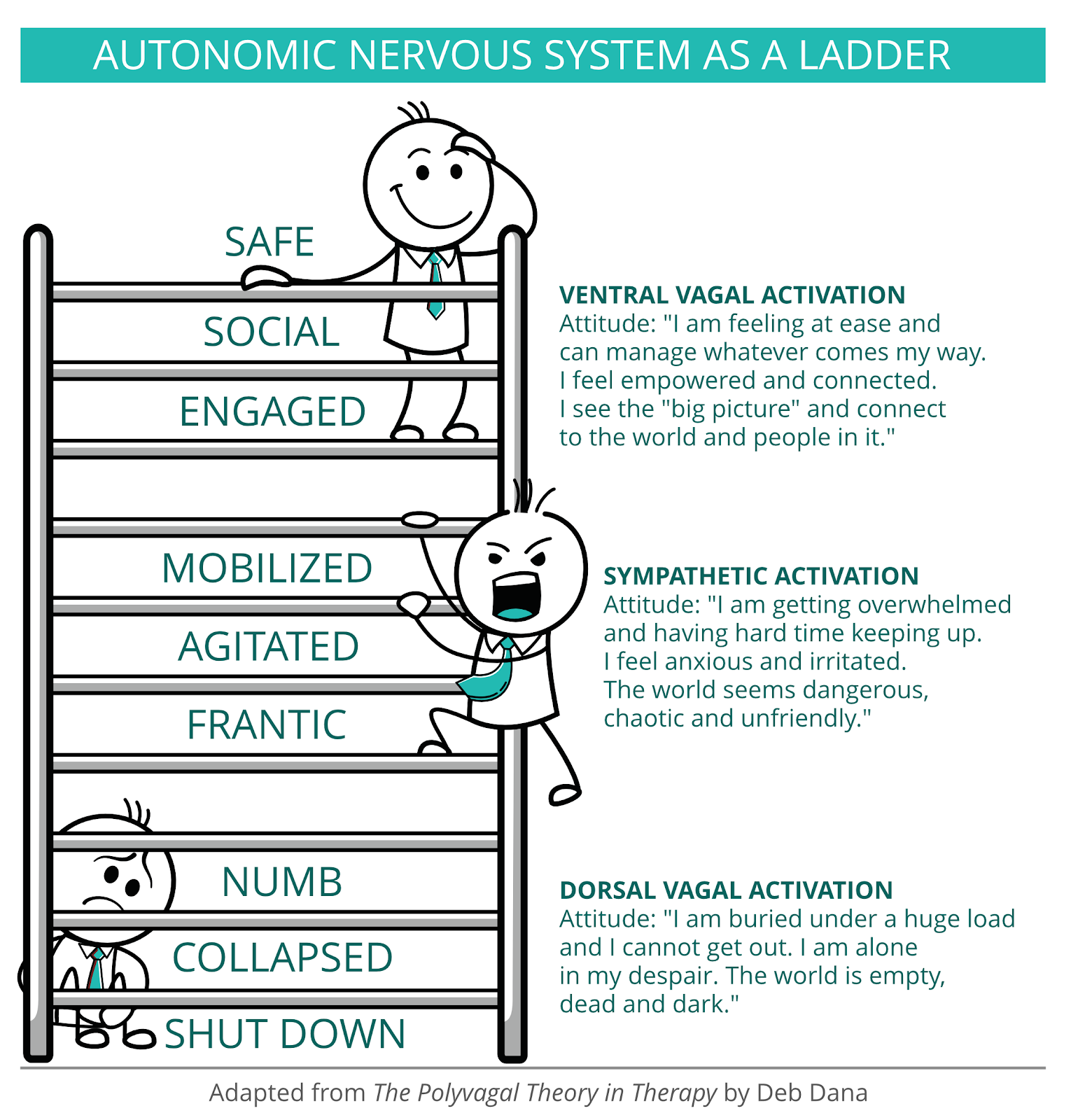 Another take on it is the "window of tolerance" as in this image: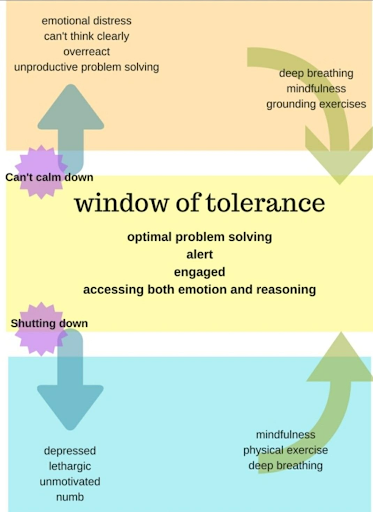 Five strategies that can be used to support teens at home and at school:
Supporting them in being aware of their outbursts and the consequences of having them on their surroundings.

Being aware of stressful situations at home and/or in school.

Clarifying expectations to reduce their feelings of overwhelm.

Creating a safe and supportive environment that fosters empathy.

Using scales to help them monitor where they are emotionally or may be heading as things escalate.
We can all widen our window of tolerance by practicing mindfulness, increasing happiness, and building resilience.
**so much more on this topic coming soon!